Video surveillance in the workplace should not only be viewed as a security feature to deter intruders but it can also be used to monitor the work force and trace the source of problems as they occur on site. A business not only protects the company but the employees. The cost of installing a basic video surveillance over 5 years ago was very expensive and ineffective but with the evolution of technology the issue is not about the cost anymore as much as it is about the ease and reliability of the system being installed. It should be said that for the same price of those systems in the past, homes and businesses are getting much more than could have been imagined in the past. At Lighthouse Video Surveillance we work with only top brands to deliver state of the art camera systems to serve your home or business. Located in Nassau Bay and servicing the Houston and surrounding areas, we take the time to learn your needs and help you meet your security goals as effectively as possible.
The most basic video surveillance is the Standalone Digital Video Recorder Surveillance. It involves having a camera that digitally records images that can be viewed remotely on a TV monitor, a laptop or smart device. This set up is ideal for people who want a simple system. To view the video you have to be onsite, which is a major drawback for business owners who cannot afford to have someone watching over cameras 24/7. The more expensive types of surveillance system come with special software and can be accessed remotely on a computer or smart device. This requires installation by a reputable and experienced company. Other options include real time surveillance video transmission to your smart phone and these days there are apps that make this more possible.
The benefits of video surveillance are:
To protect the company
Installing a video surveillance system inside and outside your place of business ensures that you have "eye" on the daily tasks going on at your company. It should not be used as a spy measure but as a protection system and something that you can fall back on and use as evidence if you ever become a victim of theft or vandalism. As much as they record criminal behavior outside the business premises they can also be useful to catch in-house criminal activities. When employees know they are being watched, they will be less likely to steal from you. Recorded footage can be used by law enforcement to investigate crimes against your business as well as be used as evidence in case of employee disciplinary cases. Installing a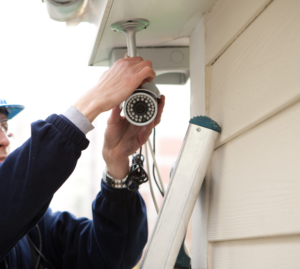 video surveillance system required forethought and knowledge. It is better to get an expert to install a system for you than to try to do it yourself.
Help Measure productivity
Video surveillance can be helpful in ensuring that employees do their work as they are supposed to when they are supposed to. Employees who know they are being watched are less likely to slack off during working hours especially if they hope for future promotion.
Keeping track of customer behavior
Video surveillance can be useful is resolving customer complaint issues. For instance if a customer claims to have bought something at a certain date, had lost their receipt and need to return it, you can just go back to the day in question to verify customer claims. Customers who make accusations about bad service or mistreatment by employees can have their claims verified by going back to the video recordings.
Video surveillance can be a useful tool to gain insight on how the business runs and it can help track peaks and operational dips. It can also give you insight of what customers think of your company from the moment they step through the door until they leave. You will gain a better insight into your business if you learn to review each day on your surveillance footage.